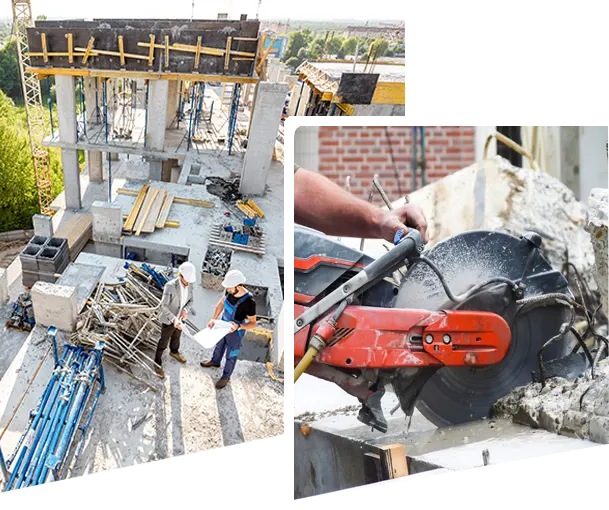 WELCOME TO
PRIME EDGE

TECHNICAL SERVICES LLC

Prime edge was established in 2012 in Dubai with the main focus on Concrete Scanning and Concrete Cutting.
Prime Edge has executed several projects in Dubai which made an enormous impact on the desire to widen its scope in UAE. Prime Edge is a leading provider of concrete cutting, scanning, and repairing services in the UAE. Our team of experts has years of experience and training in the industry, and we are dedicated to providing high-quality and efficient services to our clients.

We understand that concrete structures are an integral part of the UAE's infrastructure and that they require regular maintenance and repair to ensure they remain safe and functional. That's why we are committed to providing our clients with the best possible services, from cutting and drilling to scanning and repairing.
Our concrete cutting services include everything from slab cutting and wall sawing to core drilling and wire sawing. We use state-of-the-art equipment and techniques to ensure that every cut is precise and accurate.
In addition to cutting, we also offer concrete scanning services. Using the latest technology, we can detect and locate any potential issues with your concrete structures, such as cracks, voids, or rebar corrosion. This helps our clients to identify potential problems early on and take action to prevent them from becoming bigger issues.
Finally, we also offer concrete repair services. Whether you need to repair a crack, patch a hole, or replace a damaged section of concrete, our team has the skills and experience to get the job done right. We use the best materials and techniques to ensure that your concrete structures are safe and functional for years to come.
Also, we provide concrete scanning works in Ajman, concrete cutting in Ajman, concrete repairing in Ajman, concrete scanning works in Sharjah, concrete cutting in Sharjah, and concrete repairing in Sharjah, concrete scanning works in Abu Dhabi, the concrete cutting in Abu Dhabi, and concrete repairing in Abu Dhabi.
At Prime Edge, we pride ourselves on our commitment to customer satisfaction. We understand that every project is unique, and we work closely with our clients to ensure that their needs are met and their expectations are exceeded. If you need concrete cutting, scanning, or repairing services in the UAE, don't hesitate to contact us today. We would be happy to provide you with a free consultation and quote.
WHO WE ARE
Prime Edge Technical Services LLC is a service-oriented company operating in various commercial, residential and industrial buildings, power plants, oil refineries, pipelines, factories, and warehouses.
WHAT WE DO
Quality is Prime Edge`s most important product. Customer satisfaction is our most important focus. Continuous improvement leads to higher quality workmanship, customer satisfaction, and long-term success for our clients and employees.
WHY CHOOSE US
PE has accumulated a strong and healthy market trust through a simple principle that we follow: Earn Trust with Business. We aim to create value for our clients through continuous improvement in cost efficiency and quality service to achieve this objective.